Australian Greyhound Racing Live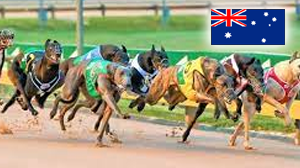 Australia is home to several great greyhound racetracks covering the length of the country and the sport itself ranks as one of the most popular in the country. Throughout Queensland, NSW, South Australia, Victoria and Tasmania, you'll find a whole host of dog racing action from various Greyhound clubs.
Possibly, the most famous track in AU is Wentworth Park, home of the annual Million Dollar Chase race in Sydney, New South Wales. Racing at Wentworth takes place on Wednesday and Saturday nights with races of over 1700ft and 2300ft on it's sand based track.

Click here to find out how to watch Australian Greyhounds live online at home on pc, smartphone, mobile or tablet!
Other popular racetracks in Australia:
Of course, when discussing the 'best of the best' - Sandown Park must receive a mention. No connection to the British racecourse with the same name, the racetrack is home to the Melbourne Cup, a group 1 race of 515 metres in sand and one of the countries most popular and viewed races. Beginning in 156 with Rocketeers win, the prize money has increased from $500 to an incredible $435,000 in 2018 and continues to rise.
Another one of the standout racetracks is of course, The Meadows. Boasting races on Wednesday and Saturday evenings, The Meadows is just one of the major racetracks in the country with a plethora of fine races taking place from it's home in Broadmeadows, Victoria. The Australian Cup is the standout annual race, running from 1958 and now with a pot of over $250k
Live Streams - Aus/NZ:
Above, you'll find a huge selection of racetracks including the likes of Cambridge, Shepparton, Addington, Gunnedah, Warragul, Warnambool, Mount Gambier, Angle Park, Sandown, Albion Park, Hobart, Mandurah and much more across VIC, WA, QLD, NSW and other territories.