Towcester Live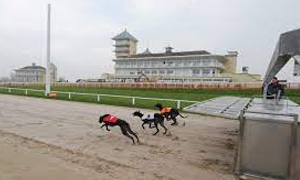 In 2020, the Towcester greyhound stadium returned to schedules after almost going out of business in 2018. Henlow promoter Kevin Boothby signed a 10 year deal to secure the return of dog racing and welcomed the return of some of the track's major annual events.
The English Greyhound Derby and Puppy Derby made their return, 2 of the calendar's much followed races. The 500m Derby race was won by Thorn Flacon in 2021 in 29.06. Previous winners of the race have included Dorotas Wildcast and Astute Missile.

Click here to find out how to watch Greyhounds live online at home on pc, smartphone, mobile or tablet!
Race times:
Towcester has a busy schedule of racing including Tuesday and Saturday evenings as well as Sunday afternoons. Monday evening racing also takes places on occasion.